War graveyards
Here is what historian Adam Hochschild said on Democracy Now! about massive graveyards of war dead:
This was a thought that occurred to me, walking through the First World War cemeteries. Anybody who's interested in the First World War eventually goes to the old Western Front in France and Belgium, which is an area of the world that I think has the greatest concentration of young men's graves anywhere in the world. Go to anywhere where the greatest fighting took place—the region where the Battle of the Somme was or the fighting around Ypres or Verdun—you stand on the hilltop, and you see five, six, seven cemeteries, enormous ones, with, you know, 5,000-10,000 graves, spreading on all sides of you. And it's an overwhelming experience.

Yet, when I think about the wars we're engaged in today, in Iraq and Afghanistan, there is nowhere that an American or anybody can go and sort of visually see the toll of the war in this sense, especially since the great bulk of the casualties are, you know, Afghani and Iraqi civilians, as well as the American and allied troops who have died. You know, if they could all be buried in one place, maybe these senseless wars of today would come to a stop sooner.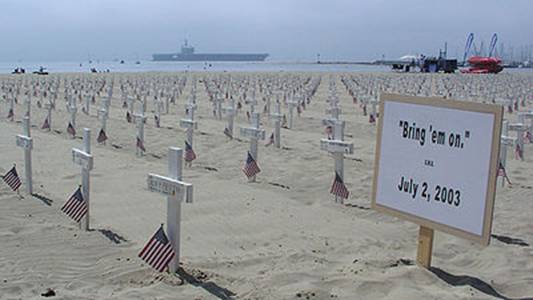 Santa Barbara War Memorial 1
This picture and the next were taken at the beach in Santa Barbara, California, right next to the pier. A veterans group started putting a cross and candle for each U.S. death in Iraq and Afghanistan.
Each cross has a name, a rank, date of birth, and date of death.
The veterans do this only on weekends, putting up the graveyard and taking it down each weekend. Guys sleep in the sand next to it, keeping watch over it so that nobody messes with it.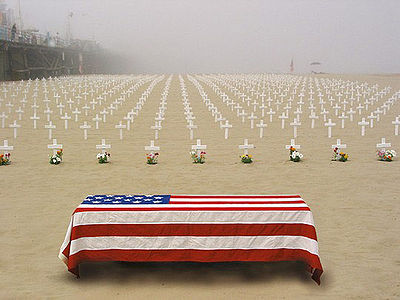 Santa Barbara War Memorial 2
Very moving. Very powerful. So many young volunteers. So many in their 30s and 40s as well.
Below is another graveyard, sponsored by Rethink Afghanistan and Veterans for Peace. (To put it into focus, click it.)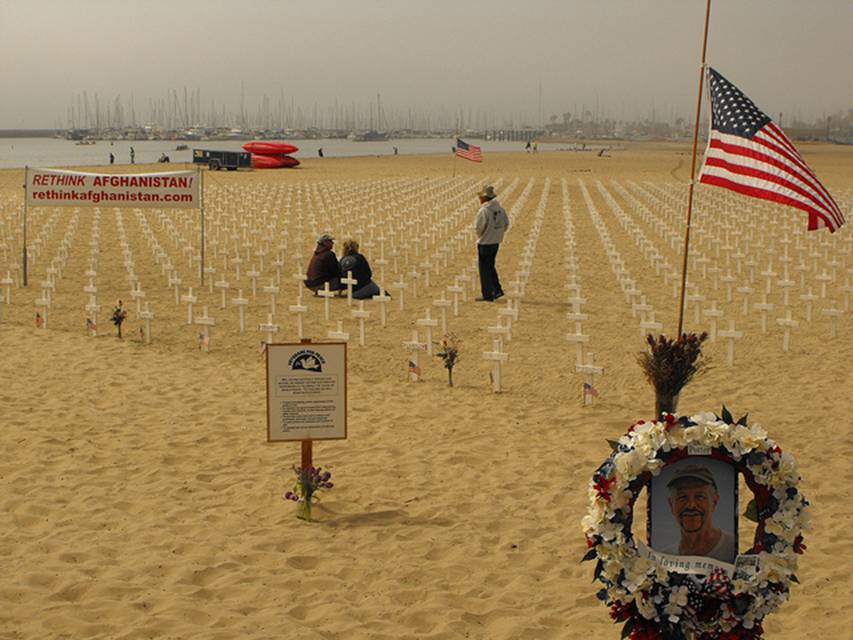 Rethink Afghanistan & Veterans for Peace (click to focus)
Amazing !
Please pass this link on.